When looking for the perfect place for your ski holiday, there are many factors that can come into play. Whatever it is you're looking for, you're sure to find the perfect spot somewhere. But if you want an off-the-beaten-track destination that looks like it's straight out of a Hallmark movie, the city of Frisco, Colorado, could be the ideal landing spot for you. With gorgeous mountain views and plenty of things to do, Frisco has plenty to offer skiers and non-skiers alike.
The first thing you'll notice when you enter the heart of Frisco is that it really does look like you're walking onto a movie set. From the small-town feel where everyone knows everyone (population 2,700) to annual Christmas festivities, Frisco offers visitors so much to do—be it hitting the slopes, shopping, having fun at Frisco Adventure Park, or just enjoying the beauty around you. During the one chance I've had to visit, that's it for me – walking into the shopping district and just enjoying the sights, views and charm this community has to offer.
For those of you planning a trip to this picturesque city, we've selected 10 vacation rentals on Vrbo that are perfect as your base for exploring Frisco. Some of these houses are for smaller groups and some for a larger gathering. Either way, there's something here for just about everyone.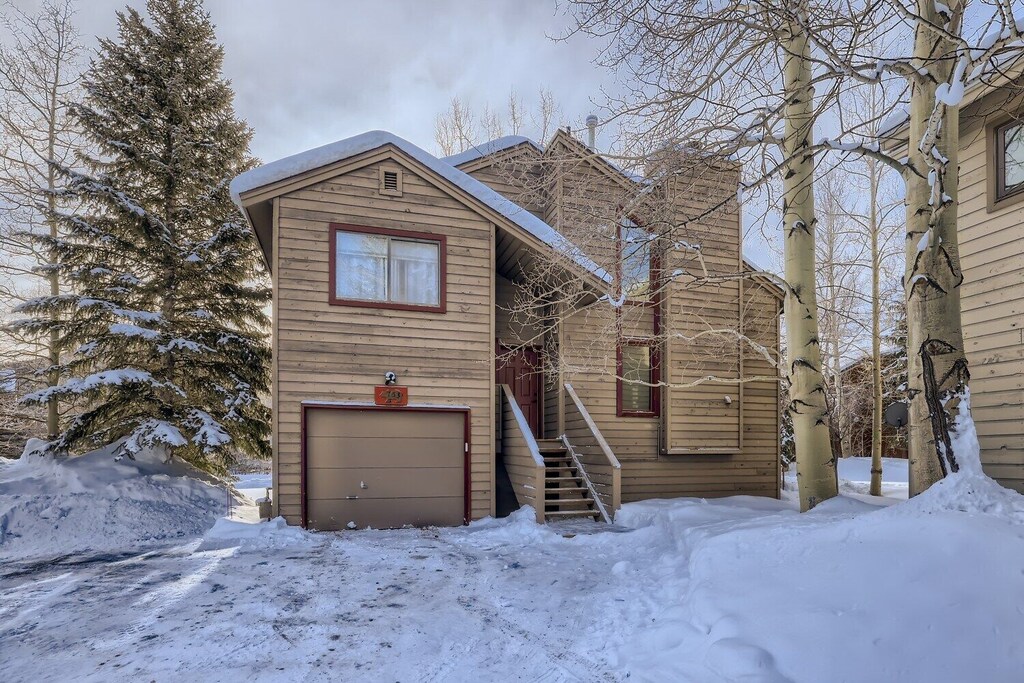 Three-bedroom Mountainside Home
Rent now $213
Just five blocks south of Main Street, this three-bedroom mountainside home is an easy walk to shops and restaurants, centrally located near the four ski areas in Frisco. You don't share walls with anyone in this private home, but you do have access to the clubhouse on the mountainside. This home features recently updated bathrooms, a full kitchen, private laundry rooms, a gas grill, gas fireplace, a private one car garage and more!
Bedroom: 3
Bath: 3
Sleeping: 8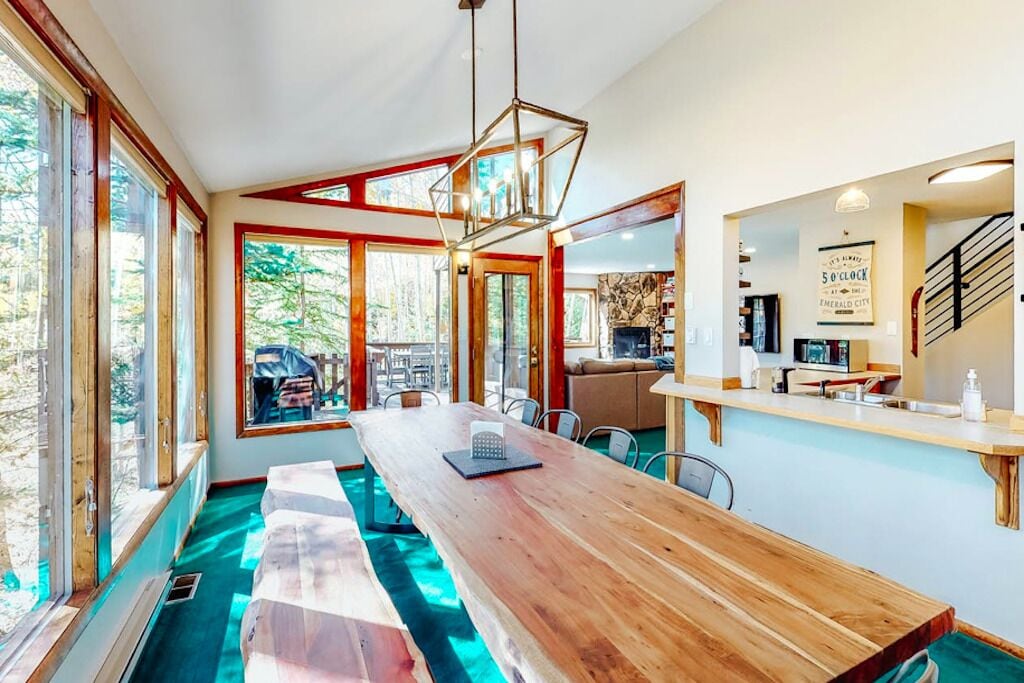 Mountain town gem
Rent now $215
Are you looking for an incredible mountain view from inside or outside your rental property? Then this mountain town gem located in a quiet neighborhood in the mountains is something for you. Relax indoors and gaze out the giant windows at the aspen trees or the breathtaking view of Mount Royal. Or step out onto your large enclosed deck and enjoy the scenery. Located just 15-30 minutes from world-renowned ski resorts including Copper, Breckenridge, Keystone, Arapahoe Basin, Loveland, Vail and Beaver Creek Resorts, this home is ideally located for a winter visit. Or, if you come in the summer, there are plenty of hiking trails and other outdoor activities nearby. Just a mile from Main Street, this home has a lot to offer your group of up to 10. Check it out today!
Bedroom: 3
Bath: 4
Sleeping: 10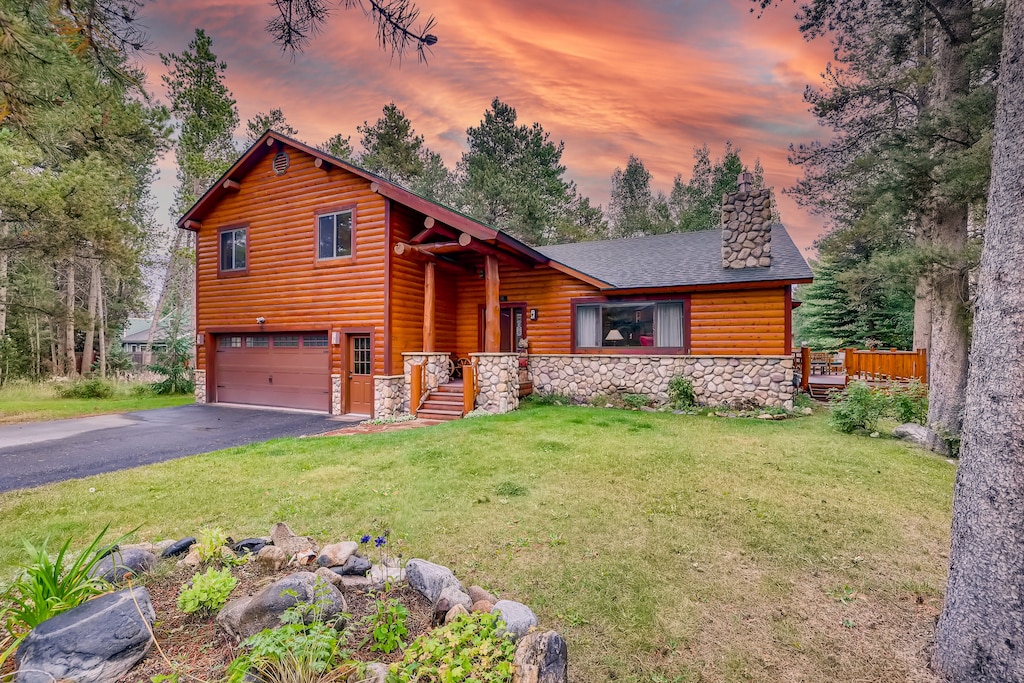 Casa de Montagne
Rent now $259
Who says you can't have it all? This beautiful log home is within walking distance of Historic Main Street and a short drive or shuttle ride to world class ski resorts. With four bedrooms, three bathrooms, a hot tub, a spacious garden and beautiful views, you'll be glad you came over Casa de Montagne. With a fully equipped kitchen, gas fireplace, seating for eight at the dining table and four more at the breakfast bar, there's plenty of room to sleep up to 12. Step outside and take a dip in the private hot tub or cook on the large deck's gas grill! Note that there is no air conditioning in this house.
Bedroom: 4
Bath: 3
Sleeping: 12
Beautiful Frisco home with hot tub
Rent now $262
This beautiful Frisco home with hot tub is the perfect place for families or a large group of friends. It offers 1,900 square feet of space with elegant decor, great views of Mount Royal, and a convenient location near Breckenridge, Copper Mountain, and the Summit County Recreational Path. With a spacious living room, vaulted ceilings, a large stone fireplace and a furnished terrace, you will find this option cozy and charming, offering an ideal setting for conversation and relaxation. The lovely landscape and surroundings make this a rare find.
Bedroom: 3
Bath: 3
Sleeping: 8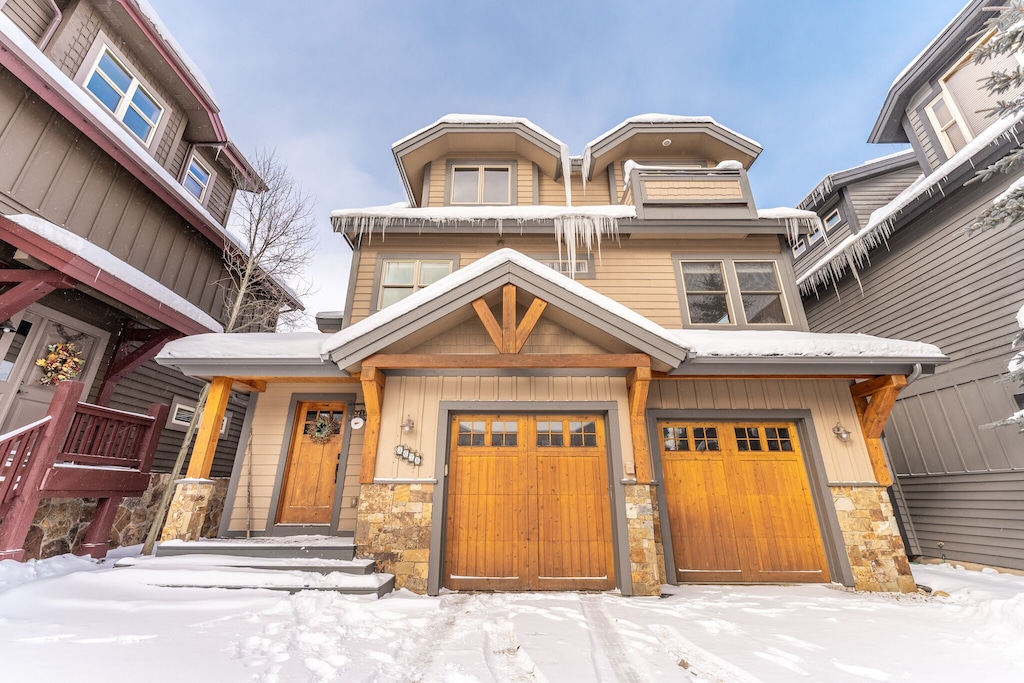 Three-story luxury mountain home with three private decks
Rent now $284
How does one work spacious, three-storey luxury mountain home with three decks located in the heart of the Frisco sound for you? Just a block away from Main Street, this lovely property offers easy access to Breckenridge, Keystone, Copper Mountain, Vail, Arapahoe Basin, Dillon and Silverthorne. Each of the three floors has a comfortable living room, and the home has a private terrace and two additional balconies. The large windows in the main living room offer great mountain views, or go downstairs and sit in front of the gas fireplace in your cozy living room. There is so much to do nearby – definitely check this one out!
Bedroom: 4
Bath: 5
Sleeping: 10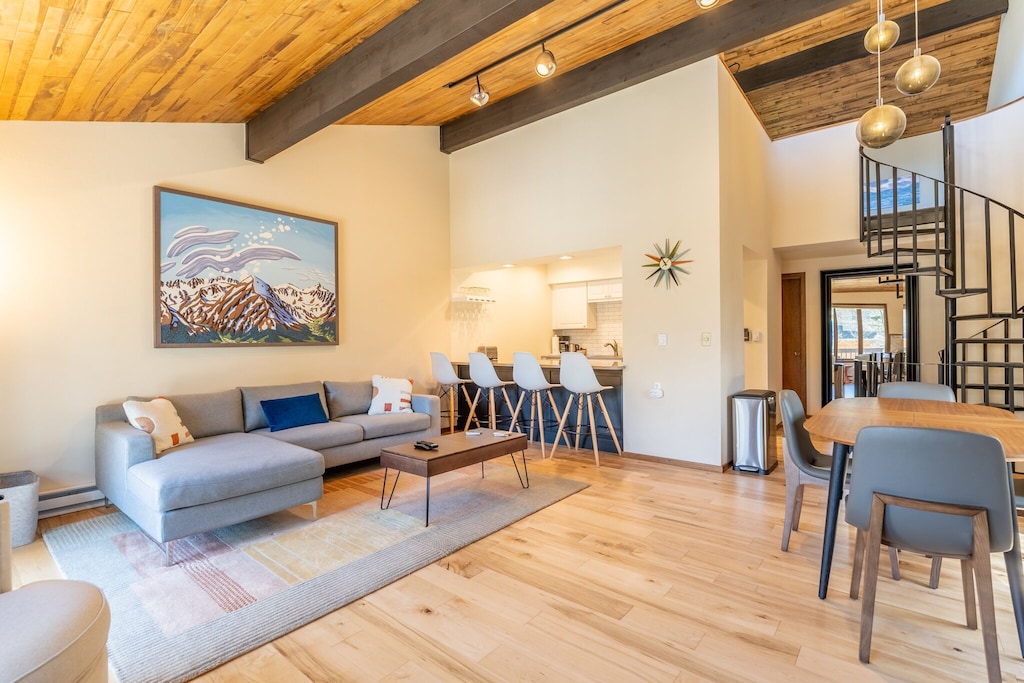 Three-storey modern duplex
Rent now $302
This home somehow manages to be that old-fashioned and modern at the same time. With beautiful mountain views, a private balcony, vaulted ceilings and spacious bedrooms, you will love this house. Located in the heart of the city, you will enjoy your vacation just minutes from a great variety of activities in downtown Frisco, Frisco Marina and Frisco Adventure Park. You can enter this property from either the garage or the main entrance. Once inside, you'll find plenty of space on multiple levels, or step outside for some peace and quiet. Be sure to book your visit soon!
Bedroom: 3
Bath: 3
Sleeping: 7
Frisco Mountain Retreat
Rent now $363
This Frisco Mountain Retreat has five bedrooms and five bathrooms, two master bedrooms and three levels of living space – cozy enough for a small group, yet large enough to host a larger gathering. This family-friendly luxury home is tucked away in a quiet neighborhood, close to town, so you can walk to restaurants and shops, but away from the hustle and bustle. Yet it's right in the center of four world-class ski areas: Keystone, Breckenridge, Copper Mountain and Arapahoe Basin – just 35 miles from Vail. This house offers an open floor plan, but still plenty of privacy for those seeking peace at the end of a busy day. This one is a beauty!
Bedroom: 5
Bath: 5
Sleeping: 10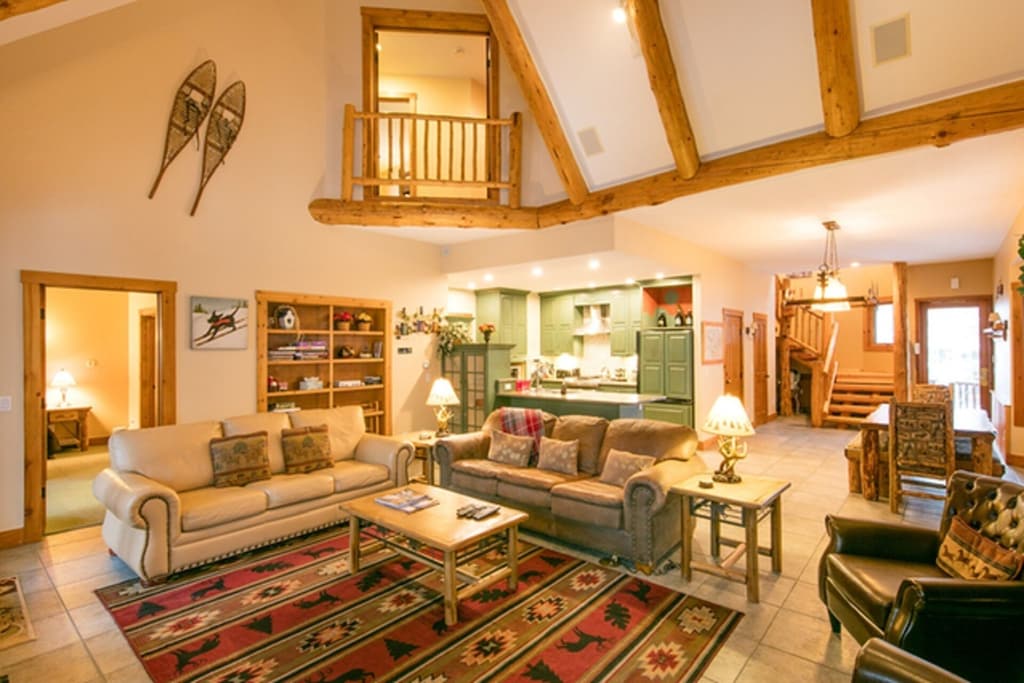 Streamside Retreat with river and mountain views
Rent now $401
So you're ready to vacation with your best friends, but you're having trouble finding the perfect multi-family home. Look no further! The Streamside Retreat has five bedrooms, four bathrooms, and can accommodate up to 12 people. Located just a block off Main Street, the main living area contains a large living room and a dining table that seats eight with room for four more on the footstools. Kick back and relax in the six-person hot tub that overlooks Ten Mile Creek. Walk across the street and hike Mount Royal or ride the free Summit County buses to Copper Mountain, Breckenridge, Keystone or A-Basin. This great location is just 25 minutes from Vail. Order this today!
Bedroom: 5
Bath: 4
Sleeping: 12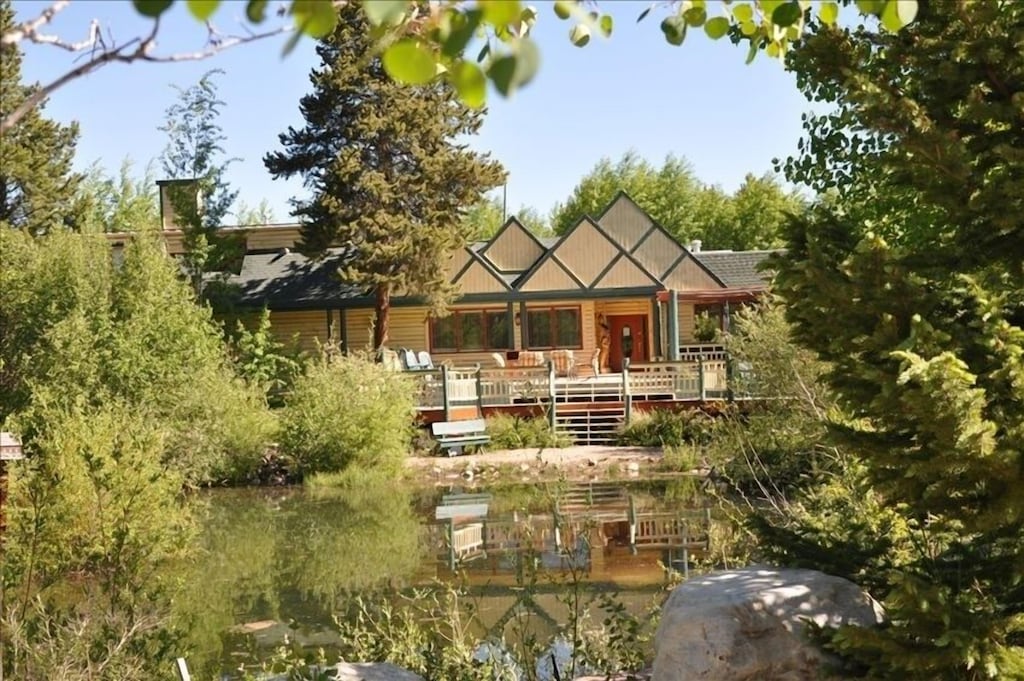 Luxury cabin with nine bedrooms
Rent now $910
Let's just put it out there – holy cow! This nine bedrooms, eight bathrooms luxury cabin features an indoor pool/spa, nine gas fireplaces and 10,000 square feet set on two secluded acres. Just a short walk to Main Street, be sure to check out the pool room, home theater room, two massage rooms and more. This is a great location with so much to offer – close to restaurants, shops, tennis courts, Frisco Marina and more. You have to see this one to believe it!
Bedroom: 9
Bath: 8
Sleeping: 18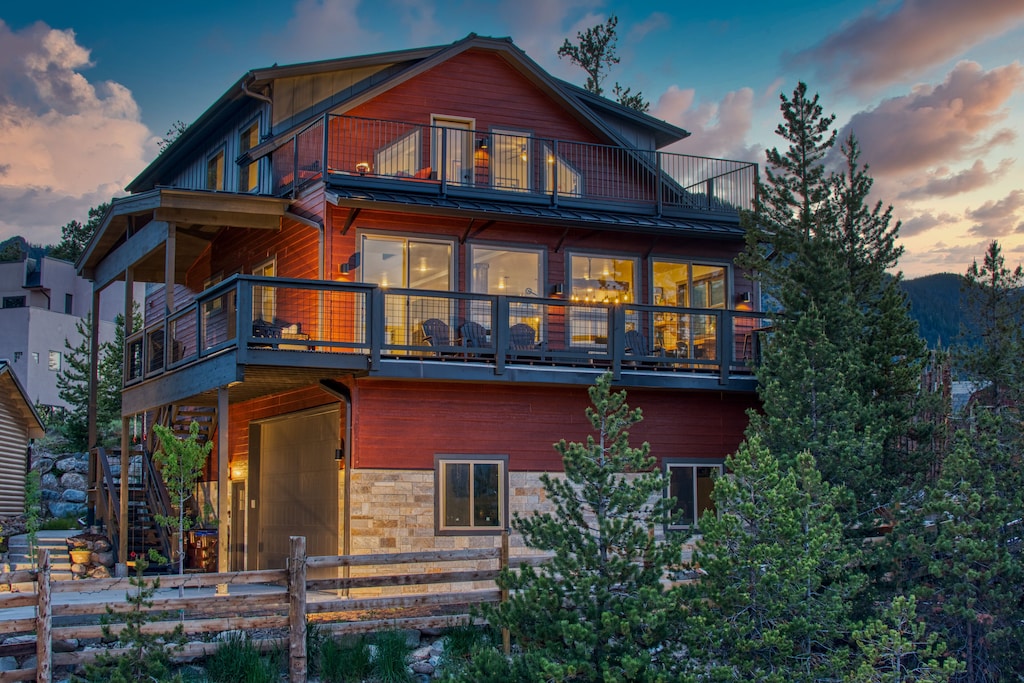 Mega Mountain Retreat Space
Rent now $995
With gorgeous views of Frisco and Lake Dillon, this brand new modern mountain home is a mega mountain retreat place in a prime location. Just minutes from Main Street with easy access to ski resorts, this 3,500 square foot home is spacious, bright and offers plenty of room for families to spread out. Step outside and enjoy the sweeping views of Lake Dillon and be sure to check out the photos of this beautiful home as well!
Bedroom: 4
Bath: 6
Sleeping: 12
To discover even more things to do around Frisco, Colorado: