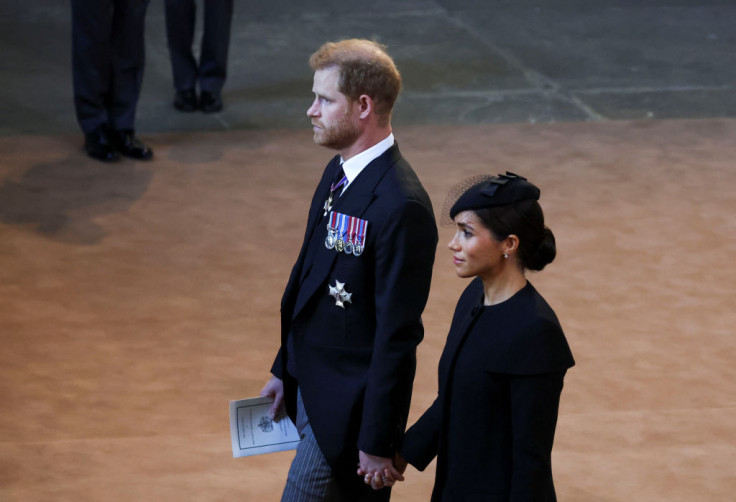 IMPORTANT POINTS
Prince Harry and Meghan Markle held hands as they left Westminster Hall following the procession of the Queen's coffin
The Sussexes' PDA was criticized by some social media users as a "breach" of royal protocol
Others defended the couple, pointing out that Prince Harry and Markle weren't the only ones holding hands
Prince Harry and Meghan Markle's decision to hold hands as they left Westminster Hall in London after Queen Elizabeth II's procession sparked a debate on social media.
The Duke and Duchess of Sussex arrived separately for the procession carrying Queen Elizabeth II's coffin from Buckingham Palace to Westminster Hall, but they stood side by side during the service.
Footage and photos from the event also showed Prince Harry and Markle holding hands on their walkout, in contrast to King Charles III, Queen Consort Camilla, Prince William and Kate Middleton.
Prince Harry and Markle's public affection received mixed reactions on Twitter, with some celebrating it and others criticizing it as a breach of royal protocol, as royal family members are strongly discouraged from showing PDA.
"The woman has no class. Is she manipulating him with her constant grasping hand holding? Harry, read my sign. Nod once if she's holding you hostage," one critic commented.
Another wrote"The world sees the breach of royal protocol for the Queen's funeral. Holding hands looks classless."
"Did my eyes deceive me, or did Harry and Meghan actually hold hands as they exited Westminster Hall?! Do they have no idea how to behave properly?" a third user wrote.
"They are part of the procession," read another chirping. "Is it too much to expect them to walk in their line? Even the horse could hold its position for a 20+ minute walk. Yet Meghan [and] Harry couldn't hold his formation at least until they reach the door?"
However, other social media users and royal fans had no problem with Prince Harry and Markle holding hands and even praised the couple's bond.
"Meghan and Harry have such a special and wonderful bond that no one can ever take away from them," one person said.
Another called Markle a 'supportive wife' amid husband's grief.
Some also pointed out that Prince Harry and Markle weren't the only ones holding hands. Princess Anne's daughter Zara Tindall and husband Mike Tindall also held each other during the ceremony.
"Now the press is obsessing over Harry and Meghan holding hands and calling it 'inappropriate' because they're the only ones doing it. Zara Tindall (daughter of Princess Anne) and her husband are showing love too. Keep calling out the double standards," one person tweeted.
"You won't hear a single criticism of any other family members holding hands. It's absolutely sickening, the double standard that only applies to Harry and Meghan," another added.
"Other family members who held hands will not be commented or will be described as giving love and support and applauded. Absolute double standard," a third thought.
Some Twitter users suggested that the attacks against Markle were motivated by racism.
"How are Harry and Meghan holding hands attention seeking? What kind of godforsaken rotten infected vermin do you have to be to be 'offended' they held hands at the Queen's funeral? HIS GRANDMOTHER," Dr Shola Mos-Shogbamimu tweeted. "Any abuse/harassment/attack directed at them because of racist outrage against Meghan. SICK."
Prince Harry and Markle appeared at charity events in Britain and Germany earlier this month when Queen Elizabeth II died aged 96 at her Scottish estate Balmoral.
The Duke of Sussex first flew to his grandmother's bedside alone. Markle was reunited with her husband and in-laws on Saturday to pay tribute to the late monarch.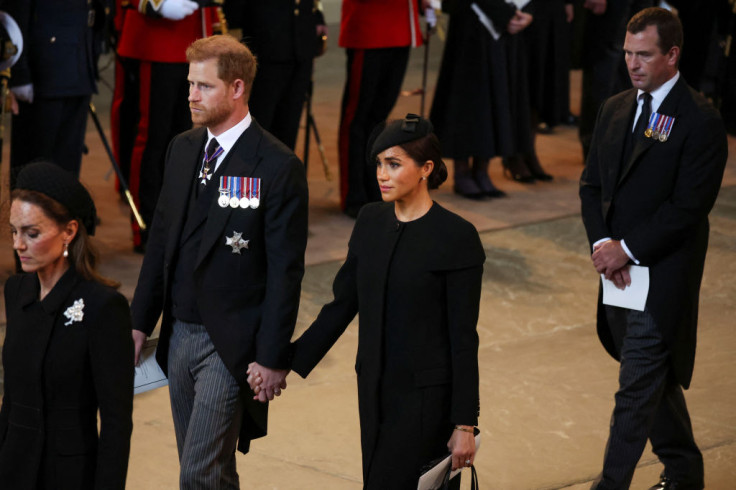 FOLLOW MORE IBT NEWS ON THESE CHANNELS
© Copyright IBTimes 2022. All rights reserved.